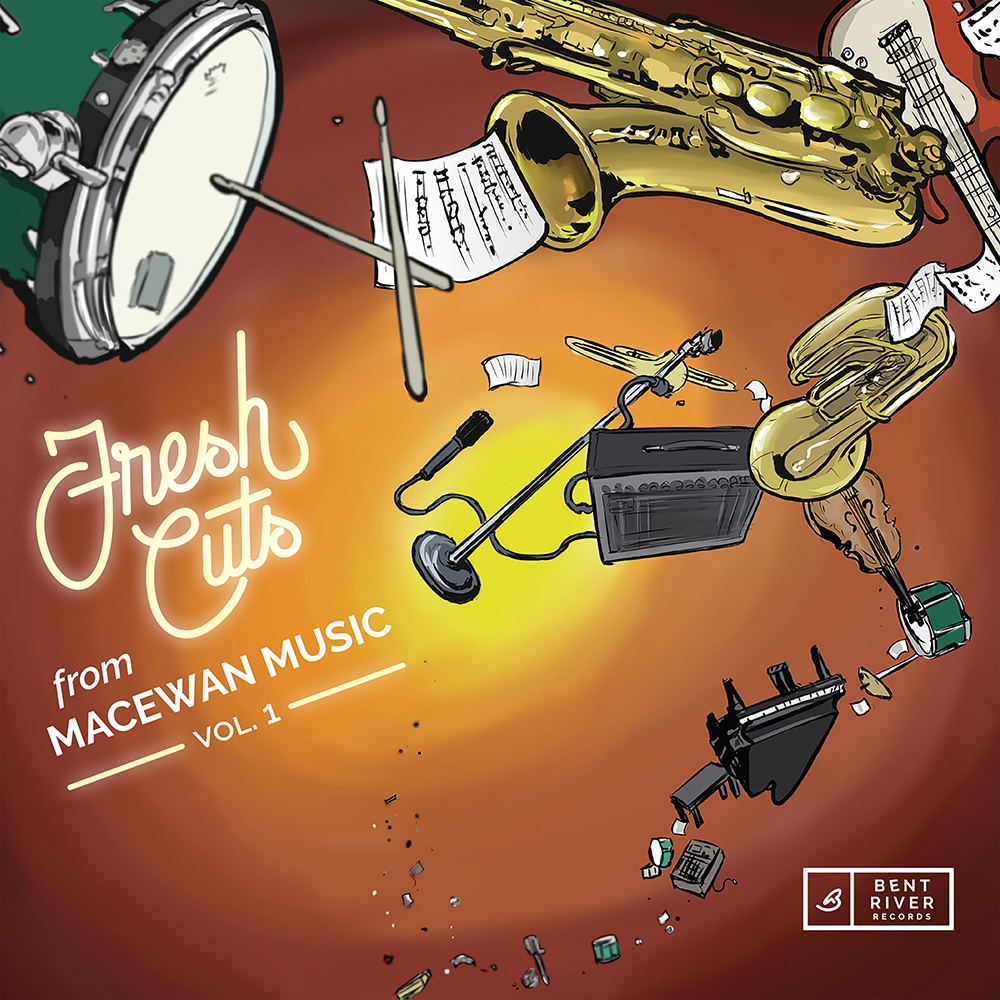 Fresh Cuts from MacEwan Music Vol. 1
BRR-202104FC
Track Listing
London to New York  (4:50)
Composed & Arranged by Stephanie Urquhart  |  Performed by MacEwan Big Band I
Revelation  (1:16)
Composed by Jillian Treidler
Northern Sunrise  (5:21)
Composed by Mari Alice Conrad  |  Performed by Obsessions Quartet
Band-Aid  (1:30)
Composed by Katrina Sosa
The Remainder  (6:38)
Composed by Patrick Froese  |  Performed by Chris Andrew Trio
Concertino for Reel-to-Reel and Kitchen Utensils  (0:41)
Composed by Connell Stinnissen
When You Come Home  (3:11)
Composed by Jemma Hicken  |  Performed by Jemma & the Good Thing
One Step from Magic  (3:31)
Composed by Lindon Carter  |  Performed by Carter & the Capitals
Where Your Love Lives  (4:20)
Composed & performed by Cynthia Hamar
Road Runner  (2:25)
Composed by A. Brostrom, K. Cockerill, M. Buckley, L. Jansen & I. St. Arnaud  |  Performed by The Denim Daddies
Whatever Comes  (5:06)
Composed & performed by Kael Sauerborn
Straw People  (4:12)
Composed & performed by Sean Davis Newton
Side of the Road  (4:39)
Composed by Jemma Hicken  |  Performed by Jemma & the Good Thing
Gone Under  (5:28)
Composed by Snarky Puppy  |  Arranged by Matt Hodges  |  Performed by Showcase Band II
Black Narcissus  (6:15)
Composed by Joe Henderson  |  Arranged by Peter Zawalski | Performed by Jazz Combo I
Talking in Your Sleep  (3:31)
Composed by The Romantics  |  Arranged by Emily Gryba  |  Performed by A Cappella Ensemble
High Times  (4:32)
Composed by Jamiroquai  |  Arranged by Cian Homeniuk & Bill Richards  |  Performed by Showcase Band I
Groove Merchant  (5:19)
Composed by Thad Jones  |  Performed by MacEwan Big Band I
Fresh Cuts from MacEwan Music Vol. 1 is the latest compilation of new works produced by the students and faculty of MacEwan University's Department of Music, and represents the jazz and contemporary focus of the MacEwan Bachelor of Music programs and our commitment to providing forward-looking, career-directed education that builds on experiential learning and mentoring for emerging performers, producers, managers, researchers, creators and educators.
Fresh Cuts Vol. 1 features students in multiple roles as composers, song writers, sound designers, arrangers, performers, leaders, recording and mastering engineers, producers, and managers. The majority of the pieces are original and were chosen for production through juried competition. Fresh Cuts Vol. 1 also features our premiere faculty-directed ensembles. The Bent River Records team, comprised of students and faculty, produced the artwork and other print media, managed post-production, and manage marketing, release and distribution.
Special thanks to the Toronto Dominion Bank, Craig Monk, Allan Gilliland, Paul Johnston, Padraig Buttner-Schnirer, the Bent River Records team, and all of the faculty, staff and students that contributed in so many ways to the success of this project.
Album Credits
Project Director & Executive Producer Bill Richards | Executive Producer Craig Monk
Mastered by the MacEwan University Mastering class (MUSC469) | Recorded at MacEwan University (unless otherwise stated)
Album Cover Artwork by Chris Twin, Winner of the 2020 Fine Art Album Artwork Competition
Album Packaging Design by Kristjan Buckingham | Fresh Cuts Logo Design by Cam Zimmel
Bent River Records Team (2019-2021)
Nick Adkisson, Paolo Belmar, Kristjan Buckingham, Padraig Buttner-Schnirer, William Conway, Emilie Dufour, Rickard Enstroem, Gareth Gilliland, Rose Ginther, Emily Gryba, Shantel Heit, Paul Johnston, Catlin Kelly-Kuzyk, Liam Mcgregor, Katie Nordvedt, Eliana Parado, Nathalie Parent, Aapo-Matti Puhakka, Emily Roth, Olivia Street, Jacob Toop, Erin Yamabe, Cam Zimmel
Special thanks to MacEwan University's Provost, Dr. Craig Monk,for his ongoing support of Bent River Records.
This album would not have been possible without the generous supportof the Toronto Dominion Bank and their commitment to arts and education.
1. London to New York (4:50)
Composed & Arranged by Stephanie Urquhart
Performed by MacEwan Big Band I (2018/19)
Directed by Raymond Baril | Produced by Raymond Baril and Paul Johnston
Recorded by Paul Johnston | Mixed by Padraig Buttner-Schnirer | Assistant Engineers: Production Class (MUSC 467)
2. Revelation (1:16)
Composed by Jillian Treidler
3. Northern Sunrise (5:21)
Composed by Mari Alice Conrad
Performed by Obsessions Quartet
Joanna Ciapka-Sangster – Violin | Yue Deng – Violin | Leanne Maitland – Viola | Ronda Metszies – Cello
Recorded, Mixed and Produced by Padraig Buttner-Schnirer
Recording assisted by MacEwan Recording Program Students (MUSC 467 & MUSC 366)
4. Band-Aid  (1:30)
Composed by Katrina Sosa
5. The Remainder (6:38)
Composed by Patrick Froese
Performed by Chris Andrew Trio
Chris Andrew – Piano | Rubim de Toledo – Bass | Sandro Dominelli – Drums
Recorded, Mixed & Produced by Paul Johnston | Assistant Engineers: Production Class (MUSC 467)
6. Concertino for Reel-to-Reel and Kitchen Utensils  (0:41)
Composed by Connell Stinnissen
7. When You Come Home (3:11)
Composed by Jemma Hicken
Performed by Jemma & the Good Thing
Jemma Hicken – Vocals, Tenor Guitar, Ukulele | Gareth Gilliland – Guitar, Background Vocals
Kelsey Wood – Electric Bass | Ryan Payne – Drums
Recorded, Mixed & Produced by Paul Johnston | Assistant Engineers: Production Class (MUSC 467)
8. One Step from Magic (3:31)
Composed by Lindon Carter
Performed by Carter & the Capitals
Lindon Carter – Vocals | Eric WIldeman – Guitar | Ali Mirzaie – Bass | Eric Doucet – Keyboards | Sam Malowany – Drums
Engineered & Mixed by Ben Kaplan | Produced by Ben Kaplan, Carter & the Capitals | Mastered by Riley Bell
9. Where Your Love Lives (4:20)
Composed & Performed by Cynthia Hamar
Cynthia Hamar – Vocals, Guitar | Chris Andrew – Piano
Recorded, Mixed & Produced by Paul Johnston | Assistant Engineers: Nick Adkisson, William Conway, Reinette Schabert
10. Road Runner (2:25)
Composed by A. Brostrom, K. Cockerill, M. Buckley, L. Jansen & I. St. Arnaud
Performed by The Denim Daddies
Rudiger Metsin – Guitar, Vocals | Rick Visser – Bass, Vocals | Danny Humboldt – Drums
Rudy Soloman – Steel | Mickey Manheim – Organ
Recorded at Sound Extractor in Edmonton, AB
11. Whatever Comes (5:06)
Composed & Performed by Kael Sauerborn
Kael Sauerborn – Vocals, guitar | Tim Neilson – Drums
Produced by Kael Sauerborn | Recorded in Gimli, Manitoba | Mixed by Padraig Buttner-Schnirer
12. Straw People (4:12)
Composed & Performed by Sean Davis Newton
Sean Croal – Upright Bass | Riley Chernoff – Drums | Riley Chernoff, Declan Paxton & Sean Newton – Percussion
Sean Davis Newton – Vocals, Everything else
Recorded, Mixed & Produced by Sean Davis Newton
13. Side of the Road (4:39)
Composed by Jemma Hicken
Performed by Jemma & the Good Thing
Jemma Hicken – Vocals, Tenor Guitar, Ukulele | Gareth Gilliland – Guitar, Background Vocals
Kelsey Wood – Electric Bass | Ryan Payne – Drums
Recorded, Mixed & Produced by Paul Johnston | Assistant Engineers: Production Class (MUSC 467)
14. Gone Under (5:28)
Composed by Snarky Puppy | Arranged by Matt Hodges
Performed by Showcase Band II (2018/19) | Vocal backgrounds & horn section overdubs by Showcase Band I & II (2019/20)
Directed by Chandelle Rimmer & Chris Andrew | Produced by Bill Richards and Paul Johnston
Recorded by Paul Johnston | Mixed by Catlin Kelly-Kuzyk & Nathalie Parent | Assistant Engineers: Production Class (MUSC 467)
15. Black Narcissus  (6:15)
Composed by Joe Henderson | Arranged by Peter Zawalski
Performed by Jazz Combo I (2018/19) | Lyrics by Aapo-Matti Puhakka
Directed by Kent Sangster | Recorded, Mixed & Produced by Paul Johnston | Assistant Engineers: Production Class (MUSC 467)
16. Talking in Your Sleep (3:31)
Composed by The Romantics | Arranged by Emily Gryba
Performed by A Cappella Ensemble (2018/19)
Directed by John McMillan | Recorded & Produced by Paul Johnston | Mixed By Aapo-Matti Puhakka
17. High Times (4:32)
Composed by Jamiroquai | Arranged by Cian Homeniuk & Bill Richards
Performed by Showcase Band I (2018/19) | Vocal backgrounds & horn section overdubs by Showcase Band I & II (2019/20)
Directed by Bill Richards | Produced by Bill Richards & Paul Johnston
Recorded by Paul Johnston | Mixed by Catlin Kelly-Kuzyk & Nathalie Parent | Assistant Engineers: Production Class (MUSC 467)
18. Groove Merchant (5:19)
Composed by Thad Jones
Performed by MacEwan Big Band I (2018/19)
Directed by Raymond Baril | Produced by Raymond Baril & Paul Johnston
Recorded by Paul Johnston | Mixed by Padraig Buttner-Schnirer | Assistant Engineers: Production Class (MUSC 467)