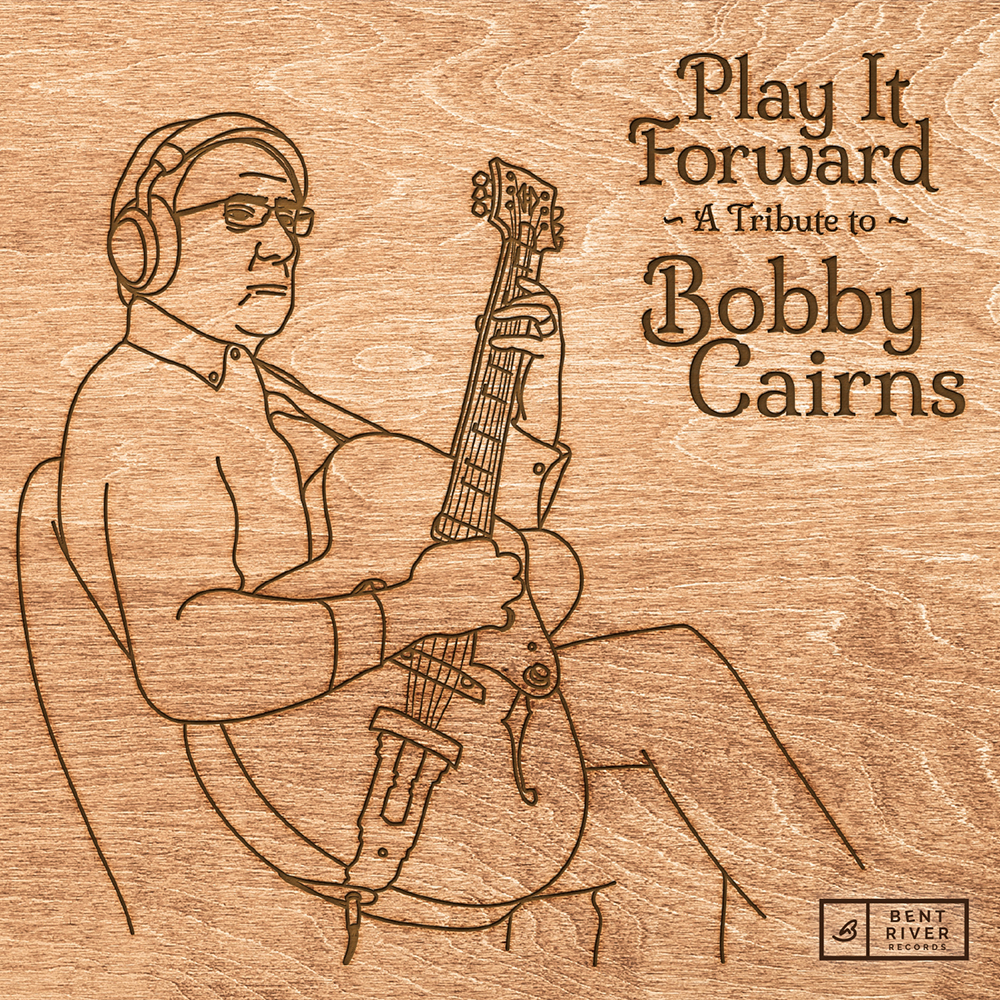 Play It Forward:
A Tribute to Bobby Cairns
BRR-202103
Track Listing
Billie's Bounce (2:47)
I Got Rhythm (3:54)
St. Thomas (3:21)
Down the Middle (4:37)
Swing with a Sting (3:35)
Stolen Moments (4:47)
A Night in Tunisia (4:08)
Fascinating Rhythm (2:58)
Funky Sterno (3:49)
Straight, No Chaser (3:41)
Nica's Dream (3:43)
Superstition (5:14)
NOTE FROM BILL RICHARDS, EXECUTIVE PRODUCER & CHAIR, MACEWAN MUSIC
Guitarist Bobby Cairns was a true pedagogue and master of the instrument. His engagement with the professional community and music & television industries as one of the top jazz guitarists and session musicians in Canada spans decades.
During his nearly 40-year tenure as the head of Guitar at MacEwan Music, Bobby taught and mentored generations of musicians. He brought all of his energy, imagination, expertise and musicianship to the enterprise of teaching and learning, and to the Music program and MacEwan. He wrote and developed curriculum including the guitar courses, and was a major contributor to the growth and success of the MacEwan Music program from its beginning in the early 1970s to the implementation of the BMus degree in 2011.
Bobby found many innovative and fruitful approaches to providing learning opportunities for students. He created and directed the Guitar Ensemble, which was unique in North America and remains one of our premiere ensembles today. He wrote a significant amount of jazz, Latin, and fusion arrangements for this ensemble and works selected among these are featured on this album. The session musicians are Bobby's former students, now professionals, many of whom teach here at MacEwan Music.
Special thanks to MacEwan University's Provost, Dr. Craig Monk, for his ongoing support of Bent River Records, to our colleague and long-time friend, jazz pianist Charlie Austin, who conceived of this project recognizing the importance of producing Bobby's arrangements for their uniqueness, artistry and craft, and to Mo Lefever for her work as the Music Director of this project.
This album would not have been possible without the generous support of the Toronto Dominion Bank and their commitment to arts and education.
DONATE TO THE BOBBY AND SHARON CAIRNS MEMORIAL AWARD
Album Credits
The Bobby Cairns Legacy Band
Mo Lefever – Music Director & Guitar 1
Jamie Philp – Guitar 2
Peter Belec – Guitar 3
Ryan Davidson – Guitar 4
Brett Hansen – Guitar 5
Mike Rud – Guitar 6
Kyle Hunter – Guitar 7
Jim Head – Guitar 8
Josh McHan – Bass
Dan Skakun – Drums
Produced by Paul Johnston | Arrangements by Bobby Cairns | Executive Producers Bill Richards & Craig Monk
Mixed & Edited by Paul Johnston, Padraig Buttner-Schnirer, Nick Adkisson, William Conway
Mastered by Guy Hèbert, Concrete Mastering | Recorded at MacEwan University by Paul Johnston & the recording students of 2019
Album Packaging Design & Illustration by Kristjan Buckingham | Back Cover Photograph provided by Jay Cairns
Bent River Records Team (2020/21):
Nick Adkisson, Kristjan Buckingham, Padraig Buttner-Schnirer, William Conway, Rose Ginther, Paul Johnston, Catlin Kelly-Kuzyk, Katie Nordvedt, Emily Roth, Olivia Street, Jacob Toop