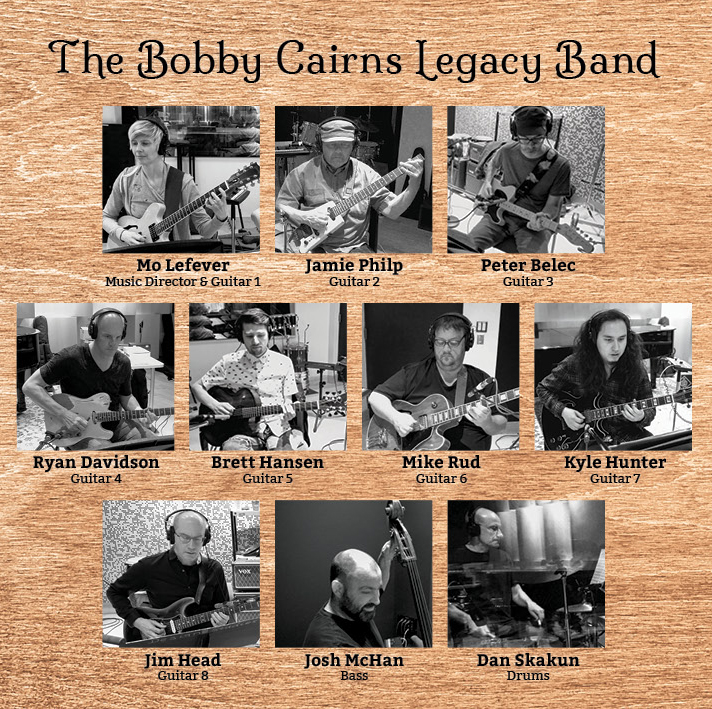 THE BOBBY CAIRNS LEGACY BAND
Mo Lefever – Music Director & Guitar 1
Jamie Philp – Guitar 2
Peter Belec – Guitar 3
Ryan Davidson – Guitar 4
Brett Hansen – Guitar 5
Mike Rud – Guitar 6
Kyle Hunter – Guitar 7
Jim Head – Guitar 8
Josh McHan – Bass
Dan Skakun – Drums
The Bobby Cairns Legacy Band is comprised of some of Bobby's former students, now professionals, many of whom now teach at MacEwan Music: Mo Lefever, Jamie Philp, Peter Belec, Ryan Davidson, Brett Hansen, Mike Rud, Kyle Hunter, and Jim Head, with Josh McHan on bass and Dan Skakun on drums. Jazz pianist Charlie Austin, retired former head of the Piano Department at MacEwan University, conceived of the tribute project, recognizing the importance of producing Bobby's arrangements for their uniqueness, artistry and craft.
"When we heard the idea, it was definitely something Bent River Records wanted to be a part of. Bobby was a beloved educator and faculty member at MacEwan and being able to record an album in his memory seemed like a wonderful way to honour his legacy and contributions," said Bent River Records co-founder, Paul Johnston.
"Through his brilliant arrangements, Bobby motivated countless guitar students to improve their technique, reading skills, and ability to play cohesively with other musicians," says Mo Lefever, who is also the album's Musical Director. "The impact of his musical voice is profound and timeless, and it is truly an honour to be a part of this special tribute."
Play It Forward — A Tribute To Bobby Cairns will be made available for free on all digital streaming platforms and for sale in CD form at the MacEwan Bookstore. You can listen to the album here.
DONATE TO THE BOBBY AND SHARON CAIRNS MEMORIAL AWARD
BRR Releases