Bent River Records Artist Spotlight – April 2023
We are excited to announce the next Bent River Records Artist Spotlight will be at the Yardbird Suite on April 20th, featuring performances by Jim Head, Esther Forseth & Andrea House. Save the date and join us for an evening full of live music and fun!
The event will take place on Thursday, April 20th, 2023 at the Yardbird Suite, 11 Tommy Banks Way NW, in Edmonton, Alberta.
The evening's lineup includes three performances featuring artists with new releases from Bent River Records. The night will open with Esther Forseth performing her indelible brand of progressive folk; next, the sensational and multi-dimensional, Andrea House; and Canadian Jazz great, Jim Head, will be closing out the night. CDs of the performer's albums will be available for purchase. Bent River Records merchandise and other previously released works from Bent River Records will also be available for purchase. Entry to this event is by donation to the Students First Campaign. A QR code with the link to donate will be available at the event. No RSVP or ticket purchase is necessary.
Click here for the Yardbird Suite event page.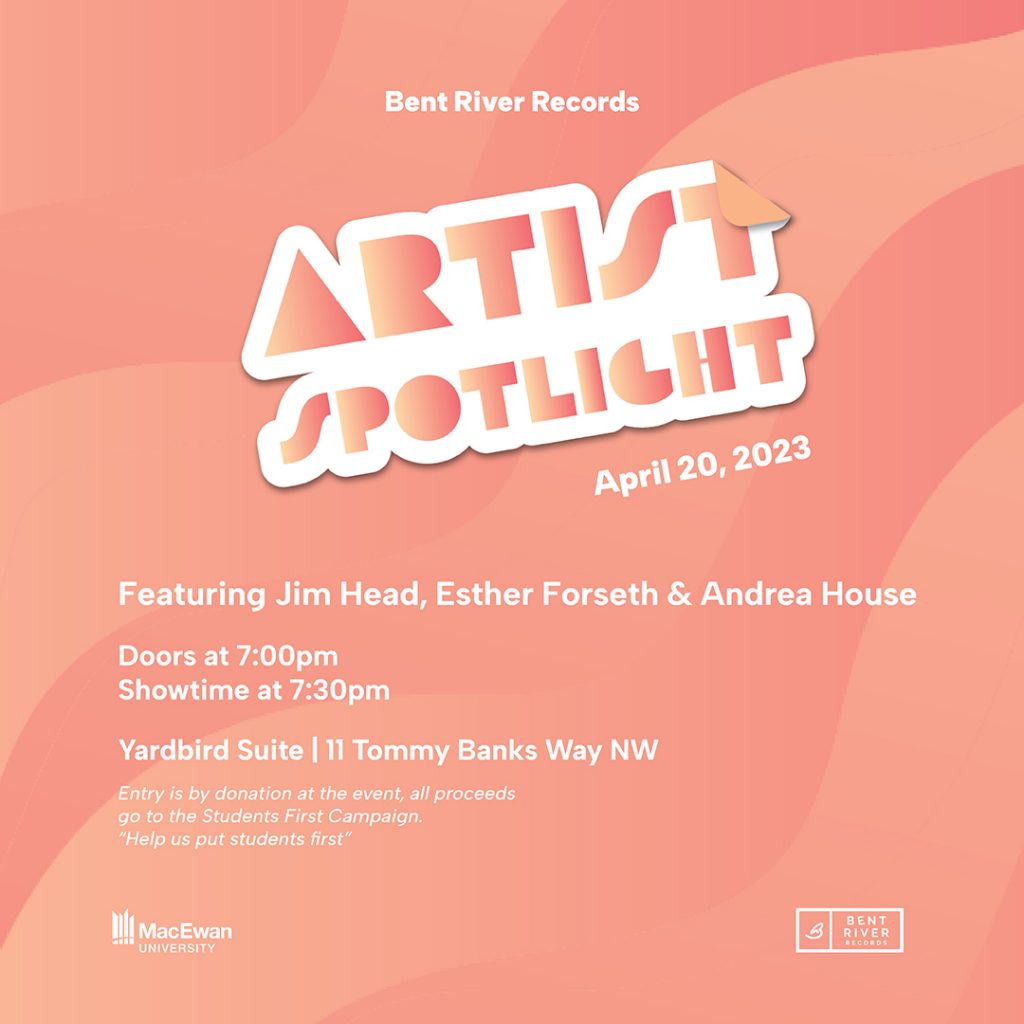 PAST EVENTS
2021 Bent River Records Artist Spotlight Series on CJSR 88.5
Did you miss our 2021 Artist Spotlight Series on CJSR 88.5? Fret not! You can now listen to the episodes on Soundcloud. Thank you to Mark Rodgers, host of Soul of the City, and to the Bent River Records interns who co-hosted the shows.
Listen Now:
Bent River Records ran our annual Spotlight Event again this year, albeit in a slightly different format! Normally the Spotlight event is an in-person event celebrating the new album releases of the artists on the Bent River Records label.
Last year's event was canceled due to the COVID-19 pandemic. However, the 2021 Spotlight took place as a two-part radio event on CJSR 88.5FM.
Bent River Records interns are guest hosts on the two episodes (in 4 parts on this playlist).
Aired April 15th & 20th on CJSR 88.5
Soul of the City, hosted by Mark Rodgers
Guest hosts: Nick Adkisson, William Conway, and Jacob Toop