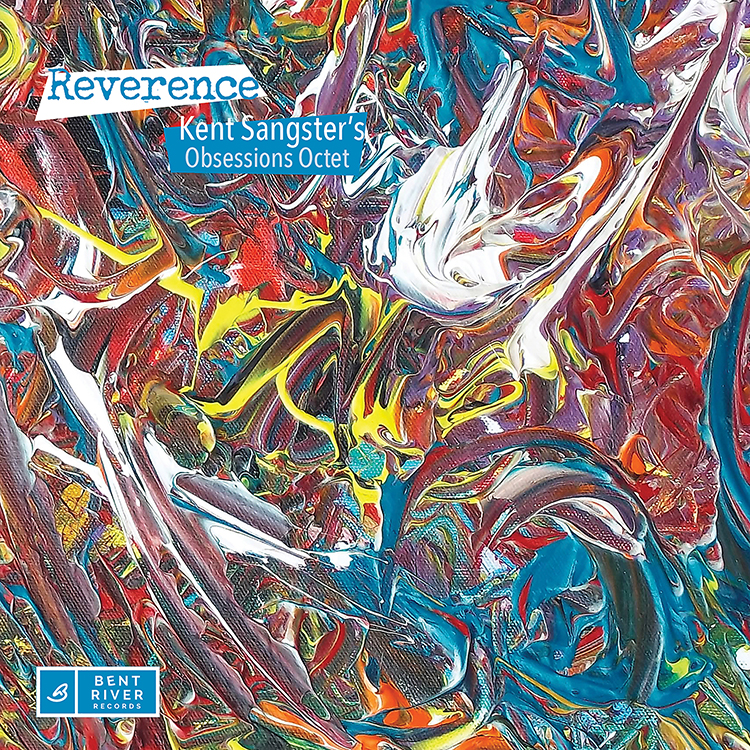 Reverence
BRR-201905
Track Listing
Reverence (6:09)
Walking by Flashlight (5:32)
Circling Back (5:47)
Ballad for Bernt (5:19)
Cracovian Nights (4:45)
Morse (6:49)
Parisian Summer (5:12)
Mr. Rollins (4:17)
Reverence is the 4th CD released by the Obsessions Octet, the ensemble that continues to be at the center of my development as a composer, arranger, saxophonist, and educator. This new release documents four new original compositions along with works by Canadian composers Allan Gilliland and Chris Andrew, as well as works by Krzysztof Komeda and Maria Schneider.
Reverence is a reflection of many significant life and artistic experiences I have had with the Obsessions Octet. After four recordings, two European tours, Carnegie Hall Concert & The PBS Documentary at the 2016 Rochester International Jazz Festival, there are many tales to tell of life and music making on the road as well as recording sessions. The Obsessions Octet has become a musical family that continues to grow, develop, and most importantly, follow new musical pathways to the next performance.
I must express my sincerest gratitude to the musicians and engineers: Joanna, Ronda, John, Chris, Jamie, Yue, Leanne, Clayton, Barry, Kiko, Marcin, and Paul. Your artistry and professionalism throughout the lengthy and demanding recording sessions were exemplary. Special thanks to Paul Johnston for his valued musical partnership in working on this project.
I would like to thank MacEwan University, Allan Gilliland, Bill Richards, Rose Ginther, Bent River Records, Erin Yamabe, Aapo-Matti Puhakka, Kristjan Buckingham, The Alberta Foundation for the Arts, The Edmonton Arts Council, Edmonton Community Foundation, Edmonton Symphony Society, Alberta Baroque Music Society, CKUA Radio, CBC Radio, JAZZ FM91, Radio Gdańsk, Polskie Radio Trójka, Brad Barker, Stanley Péan, Michel Charron, Kody Hutchinson, Roger Levesque, Anna Borowiecki, Bogdan Konikowski, Marc Pearce, Nina Walny, Nancy Whistance-Smith, Dolores Brack, Adam Czerwiński, Janusz Mackiewicz, Przemek Dyakowski , Barth Bradley, Jack and Joanne Watt, Steven Le Poole, Elisabeth Muhlenfeld, as well as all our devoted and loyal fans.
Very special thanks to my wife Joanna for her relentless drive and honesty, and the rest of my family, Kaja, Adam, Józef, Danuta, Jaxx and Bennie. I could do none of this without your support and understanding, yes the saxophone is very loud.
Reverence is dedicated in memory of Bob and Marilynn Sangster, thank you!
I do hope you enjoy the music and the many directions this may take you, after all it is all about the journey!
­—Kent Sangster
Album Credits
Kent Sangster, Alto & Soprano Saxophone, EWI (Electronic Wind Instrument) | Joanna Ciapka-Sangster, Violin
Yue Deng, Violin* | Clayton Leung, Violin† | Leanne Maitland, Viola* | Barry Leung, Viola† | Ronda Metszies, Cello
Chris Andrew, Piano, Rhodes | John Taylor, Acoustic and Electric Bass | Jamie Cooper, Drums | Kiko Osorio, Percussion‡
* Tracks 1,2,5,6 | | † Tracks 3,4,7,8 | ‡ Tracks 3,4,5,6,7,8
Produced by Kent Sangster & Paul Johnston | Engineered by Paul Johnston & Marcin Kowalczyk
Assisted by Heaven Oberik, Aapo-Matti Puhakk, Melissa Shier, Phil Rodda, Erin Yamabe, and the students of MUSC 467 (2018)
Mixed by Paul Johnston | Mastered by Guy Hébert | Tracks 3,4,7,8 recorded at Custom 34 Studio, Gdańsk, Poland, Aug 2-3, 2017
Tracks 1,2,5,6 recorded at MacEwan University Studio, Edmonton, Alberta, June 11-12, 2018
All songs arranged by composer, except Track 4 arranged by Kent Sangster
Cover artwork – "Reverence for Life" by Eric Wagoner | Photograph taken in Gdańsk, Poland, August, 2017
Album packaging design by Kristjan Buckingham
More from Kent Sangster's Obsessions Octet