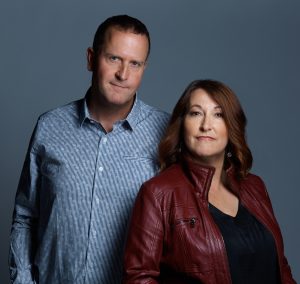 With the Bent River Records Artist Spotlight coming up, we sat down with Tom Van Seters and Chandelle Rimmer and asked them a few questions regarding the Spotlight and their upcoming record Stillness Falls.
Are you excited for the Spotlight, and what are you looking forward to most?
Tom: Really excited! Looking forward to performing this music live for the first time.
Chandelle: Ditto, Tom stole my answer. But yes, excited to share our work. I am very proud of this project.
Do you have a favourite tune on your record, if so – why is it your favourite?
T: For me it's "Cowboy Jazz". The arrangement came together gradually over a long period of time. Originally there were no lyrics but when Paul heard it, he insisted Chandelle write some words. I think the end result really captures the spirit of a cowboy on the prairies.
C: I like "Cowboy Jazz" too but I think "Vacant" is one of my favorites. We had a clear vision with this one from the beginning; a simple pop melody and chord progression that we would convert to a contemporary jazz vibe. For me, this song melds my roots as a pop singer and my love for jazz. Plus, while the lyrics are a bit sad, I think that they will resonant with a lot of people.
What is your process as an artist when writing and/or performing your music?
T: As collaborators, I don't think we have one process we always turn to, but we always try to stay true to our gut-instincts about how the music should sound.
C: I agree with Tom, but it was an exciting process to write as a team – I think we really pushed each other musically and creatively. Most importantly though, as collaborators we were very open-minded, supportive and communicated effectively through the whole process.
Is there any artist or album that you drew inspiration from while making this record?
T: When I hear Chandelle sing, it sure makes me think of Joni Mitchell sometimes.
C: Gee Tom, thanks! I found myself looking to Joni Mitchell quite a bit, her singing and lyric writing is nothing short of amazing! We had some ideas but really, we were trying to carve out our own identity as a team in this project. There weren't a lot of models out there.
What is your favourite Netflix show to binge watch?
T: Most recently, my wife and I have been watching detective shows from the UK such as Shetland, Broadchurch, and The Fall. Yes, we're very boring people.
C: I really like British period dramas. My latest however have been Shameless, Suits (who doesn't like a good looking suit!), and This is Us, but I had to stop that one for a while as I was crying too much.
Be sure to see Chandelle Rimmer and Tom Van Seters' performance at the 2018 Bent River Records Artist Spotlight on April 17th. Reserve your free tickets here: https://tickets.macewan.ca/TheatreManager/1/tmEvent/tmEvent21.html