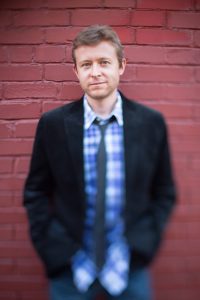 Joshua Rager is a Montreal-based jazz musician. His album Jondo was released this year with Bent River Records, and he is another artist that is performing at the 2018 Bent River Records Artist Spotlight! Here is our interview with Joshua so you can get to know him a little more!
Are you excited for the Spotlight, and what are you looking forward to most?
Yes!! What an unbelievable opportunity I'm being given by Bent River Records to perform my music with a hand picked group of some of Edmonton's finest musicians. I can't wait to hear these great players perform my music and it will be interesting to hear their unique interpretation of it. Of course it's also a great chance for my music to gain exposure to an audience in western Canada. There is a lot of energy coming out of Grant MacEwan these days and it's a pleasure to get invited to the hub of all this great music.
Do you have a favourite tune on your record, if so – why is it your favourite? 
I must say that I do not have a favourite tune on the record. When you write and arrange music, your pieces become almost like little children, each with their own personalities and quirks and as parents we learn to celebrate them all and accept their shortcomings, their strengths and weaknesses. There is some really great playing from the musicians particularly the great saxophonists Donny Kennedy and Frank Lozano. Also our drummer Rich Irwin brings a great energy and feel to the music.
What is your process as an artist when writing and/or performing your music? 
I usually work with ideas that have been on my mind for a while. They might not even be very concrete, like a melody or a chord progression. Sometimes original music is born from a feeling that needs to get explored. Usually for me I get a sense of the vibe of the piece first. Like: This is going to be a fast jazz swing tune with lots of energy, or this is going to be a moody or yearning kind of melody. I like exploring "light" and "dark" sounds especially when thinking about harmony. The other thing I can say is that from my experience the best music happens quite quickly. I have to get it out in a short period of time before I can think about it too much. Once my thinking brain becomes engaged the process can get bogged down to an endless series of unanswerable questions.
Is there any artist or album that you drew inspiration from while making this record?
Probably the music I have studied the most recently has been Herbie Hancock and Walt Weiskopf. There is a Herbie Hancock record called The Prisoner which, as a university student, I transcribed and studied. Walt Weiskopf has a wonderful record called Sight to Sound which really opened my eyes to the possibilities of form in small group writing. Walt seems interested in deconstructing the chorus structure in jazz while still basing form on repetitive structured development. Essentially he's a master at writing chorused based tunes which he obscured by arranging them in a through composed fashion. You often see this more in larger ensemble writing so I think it's particularly interesting the way he writes like this for smaller groups.
What is your favourite Netflix show to binge watch?
Me, I don't watch too much tv. Over the holidays I caught a few episodes of Fargo which had, I think, a really fresh take on traditional narrative storytelling. It seemed very smart to me what they were doing. Otherwise I catch a Spongebob or two with my kid after homework time.