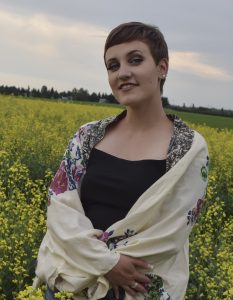 Our April 17th Spotlight is just a few days away! Our final artist that is performing this Tuesday is Mallory Chipman. We talked with her about her release Rags and Feathers: A Tribute to Leonard Cohen. Take a peek and catch Mallory at our Spotlight in the Triffo tomorrow!
Are you excited for the Spotlight, and what are you looking forward to most?
Of course I'm excited! Last year's Artist Spotlight was one of the highlights of my year, and I can't wait for what is to come this time around – especially in the new building! I'm really looking forward to performing in the beautiful state of the art Triffo Theatre alongside my incredibly talented labelmates, Chandelle Rimmer & Tom Van Seters and Joshua Rager. There's nothing quite as special as being in great company.
Do you have a favourite tune on your record, if so – why is it your favourite?
Funnily enough, my own composition "Tune for the Troubadour" turned out to be my favourite song on my album, Rags and Feathers: A Tribute to Leonard Cohen. I only find it funny because this record is a tribute album to one of the greatest songwriters of all time, Leonard Cohen. While I don't believe that any of my original tunes could rival his in any way compositionally, "Tune for the Troubadour" acts as my love letter to the work and legacy of Cohen himself, thus I believe its truly emblematic of the entire record as a whole.
What is your process as an artist when writing and/or performing your music?
Gosh, that's a hard question. Every composition comes to me differently – sometimes it's melody first, sometimes the lyrics flow as poetry years before I've added anything musical to them, and sometimes I find myself jamming at the piano playing with different progressions, and then the harmony establishes itself as the initial piece. The common thread between these different processes is that they never occur when I plan to sit down and write a tune. Inspiration for composition always comes when I'm doing something else; walking my dogs, having a shower, getting groceries, you name it!
Is there any artist or album that you drew inspiration from while making this record?
Well, in the case of this specific record, the answer to this question is quite obvious. Rags and Feathers is a tribute album to Canadian icon, Leonard Cohen. Throughout the process of making this album, Leonard's thoughtful lyricism and the fearless attitude that seems to permeate his music inspired me and pushed me to write and perform with a musical confidence I had never explored before.
What is your favourite Netflix show to binge watch?
The Mindy Project, hands down! I'm quite certain that Morgan Tookers is my alter ego.