Grant Stovel, from CKUA's Alberta Music, caught up with Mike Rud and the winning student designer for his album cover competition, Alan Ngo. Check out the full clip where they discuss the competition and Mike's upcoming release for Salome's Dance: The Mike Rud Trio Invites Peter Bernstein.
After the cancellation of the 2020 Artist Spotlight, we reached out to Mike Rud to hear how he is faring during these uncertain times. We also asked about how he writes his music and where he wants to take his project in the future: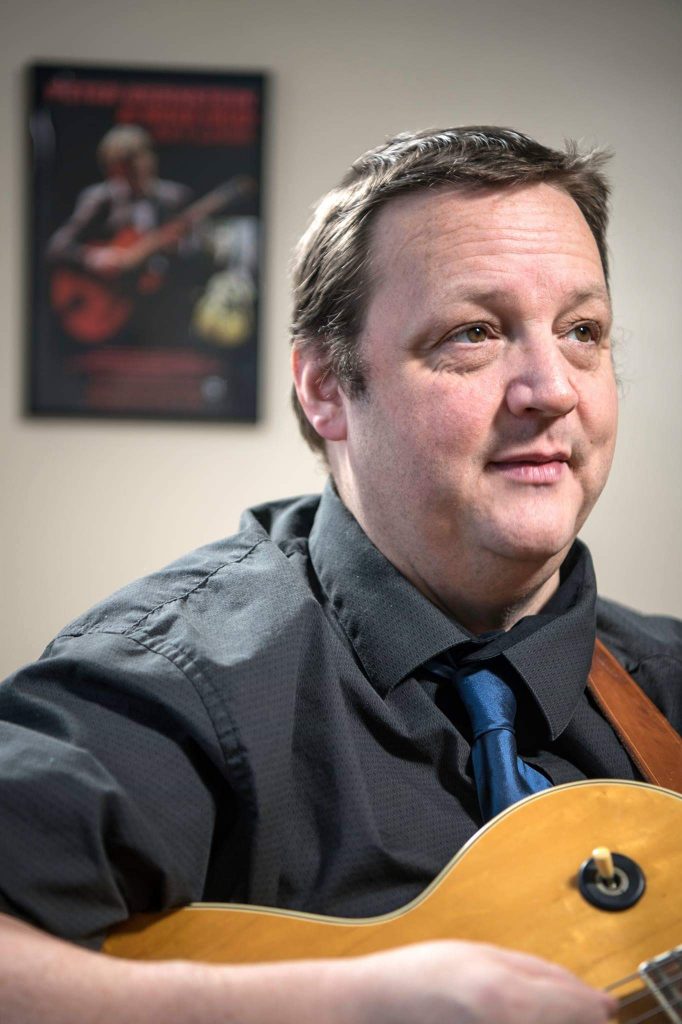 How has COVID-19 affected you personally?
What was a very fluid scene with quite a few performance opportunities is now barren. What remains is online, and does not pay. I am doing okay for now. But many musicians I know are feeling the hurt.
What music have you been listening to during this time?
Been revisiting Mahler, Kurt Weill and Randy Newman.
Which tune were you most excited to play at the Spotlight? Why?
Really more about the relationships with the other musicians than individual tunes. It's the players I was looking forward to reuniting with. The title track, "Salome's Dance," is quite evocative, and I really look forward to crowds hearing it.
What is your motivation to keep writing new music?
It is who I am. I learned to play guitar initially almost entirely for writing songs. I haven't been writing consistently for a while now, so I'm really looking forward to being in that zone of getting excited about new material. That's when it most feels like I'm really alive.
Is there a particular artist that you would want to work with? Why?
Peter Bernstein, our guest on this album, is someone I've always wanted to record with. I feel he is the guitarist on Earth who's music is most fulfilling today. Also the great John Stowell, from Portland Oregon, is a fascinating and visionary guitarist
with whom I plan to record soon. My roommate, the incredible pianist David Restivo, and another virtuoso pianist from Toronto, David Braid. I've had the honour of working with each of them and the textures were in each case other-worldly, though they are very distinct from one another.
What do you want to do in music going forward?
Sing more, write more lyrics.
How do you think the COVID-19 situation will impact on the music industry in the future?
Nobody knows. But it's a chance, if you can stay safe, to focus on creation of new work, undistracted from live performance.
Have you been working on music or composing during this time? In what way?
Not yet. Our semester at Selkirk is ending, and I have been working hard to see that my students complete all their coursework. But the few months should give me a chance. As for the process…well…a good cook never reveals his or her secrets haha!
Tune in to our Bent River Records Artist Feature this Tuesday, April 21 @ 7pm on Instagram Live as we check in with Mike and other artists from the label!