Last week we had a chance to catch up with MacEwan University's Head of the Music Department, Bill Richards, and chat about the upcoming Music Department CD! Bill is the co-producer of the CD alongside Paul Johnston and has been with MacEwan University since 1992.
This new Music Department CD has been in the works since 2019 and is the latest CD from the Music Department since 2009. Previously, MacEwan has released department CDs that featured both staff and student works on the album, but this installment is entirely student-led, focused, and produced! When asking Bill why this CD has more of an emphasis on student work, he said: "It's an excellent experience for students to view and partake in all aspects of music production and see all that goes into creating an album. It also allows these students the opportunity to work alongside their peers and faculty members to create a collaborative piece of art that creates a timestamp in their careers!" Students are the driving charge of this CD and are working hands-on in every part of this project, from writing and recording to mixing and mastering. Even the artwork was student-designed in a MacEwan fine arts competition!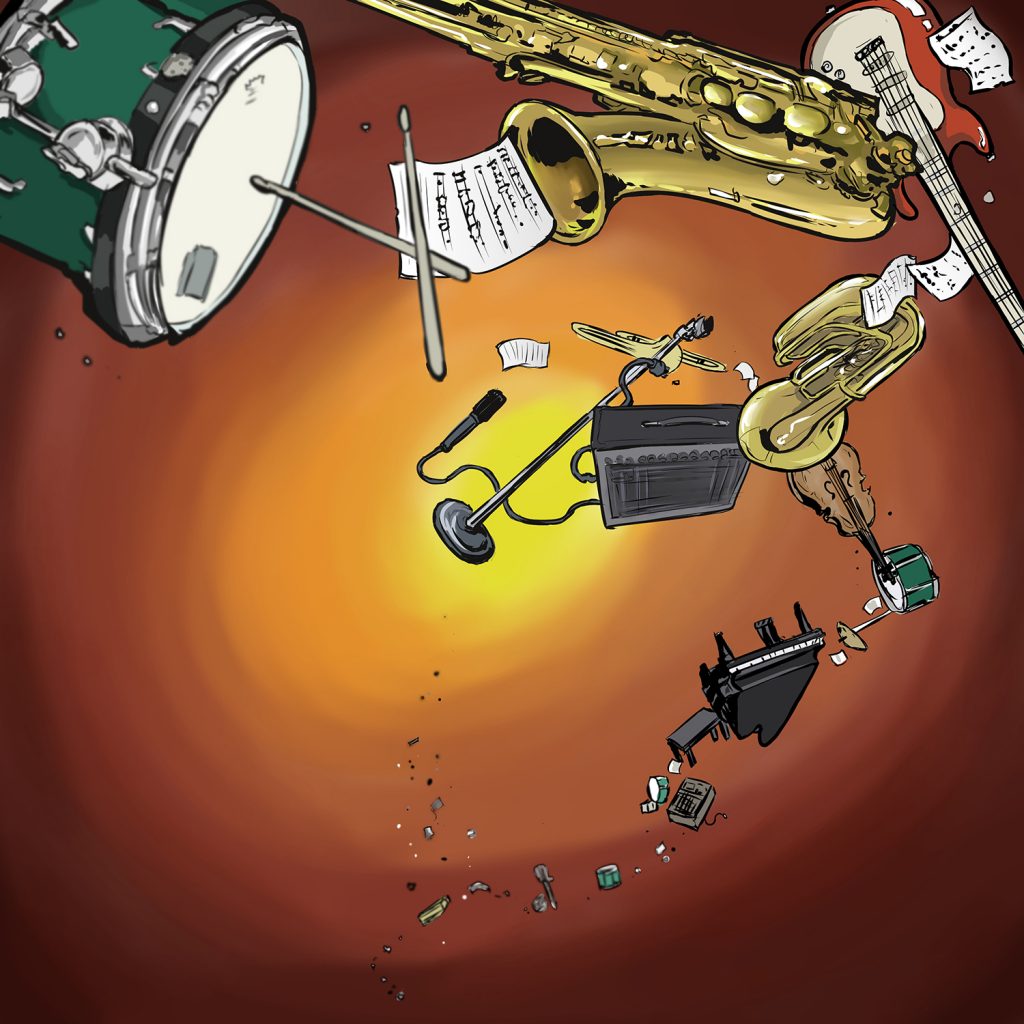 Bill also mentioned that this project is a great example of what a student focus project should look like. Integrating students and faculty from the Music Program and all over MacEwan gives individuals from all different academic/creative backgrounds the opportunity to co-create one wonderful, cohesive project.
When asking Bill what the reasoning behind doing another Music Department CD was, he responded: "Hearing some of the student's music made me ask myself, 'Does anyone else get to hear this? Do other people know that people are doing this in third or fourth year?'" Bill shared how incredible MacEwan's Music Department students are and that he hopes many people will be able to hear their work. This CD also helps create a milestone in everyone involved's careers, as well as captures where these students and the program are at this exact point in time. With the CD being peer-reviewed, some of these students are able to use this CD for their personal grant applications, among many other things!
This particular Music Department CD, Fresh Cuts from MacEwan Music Vol. 1, started off as a competition in which MacEwan students (individuals/groups) were to submit an original piece to one of five categories to be selected to be on the album! With many submissions spanning a wide variety of genres, creating a track order took some creative thinking to create a cohesive album. The CD was chosen to be arranged thematically to take the listener through a wide variety of genres. The 16 tracks on the album include a unique arrangement of big band pieces, contemporary pieces, neo-soul/funk pieces, electronica pieces, acapella ensemble, and much more! The album is split up into "chapters," with both big band pieces opening and closing the album as prologues and epilogues.