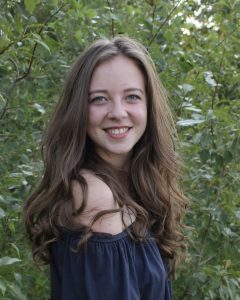 Gwynne McMaster was recently named the winner of the Bent River Records Fine Art Competition. Her artwork (to be revealed soon!) was selected as the cover image to accompany the winning songs from our Song Writing Competition, "Where Your Love Lives" by Cynthia Hamar, and "Whatever Comes" by Kael Sauerborn. The contests were conceived to honour Dr. Craig Monk, the Provost & Vice-President, Academic at MacEwan, and his generous and ongoing support of the record label. Gwynne wishes to express her thanks and appreciation to Craig Monk: "His support for fine arts has created many amazing opportunities for students and their work! Thank You!"
Gwynne is a multidisciplinary artist whose current practice involves motion, memories, and mundane moments. She is also heavily inspired by the Canadian environment that surrounds her. Using mediums of traditional animation, painting, illustration, and film, Gwynne aims to connect with her audience through visual storytelling. In 2017, Gwynne won the Fort Saskatchewan Art in Public Places Award (Youth Category) for her Painting, Old Barn. This year, Gwynne has had her art exhibited in MacEwan's Digital Gray Gallery as well as MacEwan's Fine Art Grad Show. Most recently, Gwynne has completed her Fine Arts diploma at MacEwan University and will be attending Vancouver Film School for their Classical Animation Program this following September.

Can you tell us about the artwork you submitted and how it was created?
My cover art is composed of still images from an animation project I have recently created also relating to themes of home. When considering home, I think of a barn that used to be on the side of the highway leading to my hometown, Fort Saskatchewan. For me, seeing this landmark always signified that I was on my way home. Within the past year, this barn has been torn down. While the barn is no longer there, it continues to be a ghostly figure in my mind that represents how home is not necessarily a physical place, but more of a feeling. I decided to represent this within my animation where I have white animated drawing of a barn falling apart and piecing back together behind a photographed background. When determining how to show this work as a single image for the cover, I decided to create a triptych using three still images from the animation itself to demonstrate the progression of change. I decided to use white space to separate each still image, which ended up working as a perfect space to include the text for the record cover!
How do you feel your piece relates to the winning songs from our Songwriting Competition?
I felt that my artwork especially connected to both of the winning songs and their lyrics, each reflecting how home can be a feeling rather than a place. Listening to Cynthia's song, "Where Your Love Lives," I really felt a sense of haunting memories that matched the nostalgic tone of my work. I also felt my work connected to Kael's song "Whatever Comes," in how the foundation of home strongly impacts someone as they continue to move forward in their life.

What does "home" mean to you?
To me, home is the foundation of love, whether that be from family, friends, or oneself. Home embraces welcoming feelings of comfort, warmth, and authenticity. Home provides me with memories and experiences that help me to continue grow into my own individual self while learning to appreciate the little things that surround me daily. 🙂