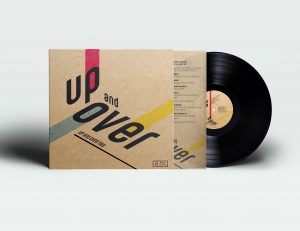 Thia Ma is the winner of the 2021 Album Design Competition in partnership with the Bachelor of Design program. Read on to hear about her experience designing the album for Up and Over Trio's first album!

'Up and Over' will be released next week on November 24th, debuting at our Artist Spotlight. Come see Up and Over Trio debut their first album live at the Yardbird Suite!
What was it like to participate in the album design competition?
I enjoyed participating in a project centred around a real client in the music industry, something way beyond the fictional project briefs we are usually assigned. It was an opportunity to design something novel, like an album cover, and put the client's needs at the forefront of the design process. You are competing against your classmates but what stood out was the many different interpretations of the same information, leading to some compelling final designs. 
How does it feel knowing that your design is actually being produced and put out into the world for people to buy and enjoy?
It's surreal, and honestly, until I'm holding the physical album, I won't believe my work exists in such a concrete way. I hope people are attracted to the album's design and take the opportunity to listen to and support the Up and Over Trio. 
Check out more of Thia's work on her Instagram madebythia or her portfolio site www.madebythia.ca.
Click here for Thia's 2022 MacEwan Student Research Day presentation breaking down her full process and inspiration behind the Up and Over cover.