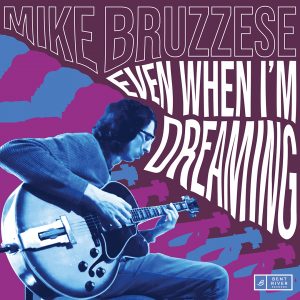 What was your inspiration for writing Even When I'm Dreaming? Were there any unique approaches to how you wrote for it?

Without making a conscious effort, a lot of the music I wrote for this record is dedicated to significant people in my life or what inspires me. For example, "Roots of the Poet" is a tribute to my late grandfather, and "Roots of the Seeker" is written for my grandmother. "Eyes of Tranquility" was inspired by my partner, while "Sky Hook" describes a basketball shot that I love. I explore what stimulates me and gives me a reason, to compose and play music. 
Who are your most significant Jazz Influences, and why?

I have so many jazz influences, that I would struggle to list them all. John Coltrane is a good start. I recorded two compositions by him ("After the Rain" and "Transition") as a medley, to show my appreciation for his art and creativity. My main guitar influences, in terms of sound, are Grant Green, Barney Kessel, and Sonny Greenwich. They are all so unique but in terms of sound, I am drawn to their bright, melodic style. I feel like they are singing through their guitars. I am certainly inspired by all the great drummers of this music, including Elvin Jones, Billy Higgins, Roy Haynes, and Rashied Ali. I recall that one of my mentors, Ra Kalam Bob Moses, always advised me to think of myself as a drummer.
Where do you find your creativity when you aren't feeling creative?

When I am not feeling creative, I seek inspiration wherever I can find it. Whether it is reading a book, watching a film, going for a walk, or watching highlights of my favorite basketball players, there is always something that re-ignites the fire in me!
Other than music, what other hobbies or interests do you have?

I am a huge basketball fan, so I enjoy going out there and playing pickup basketball with friends and strangers. There is something about the rhythm of the game that reminds me of the flow of music. 
What does 2023 have in store for Mike Bruzzese?

My objective is to continue working with my bands and composing new music. In addition, I plan to get started on my next record. I teach approximately 20 students a week because I feel it is important to transmit my knowledge to people who share a passion for music. 
Do you have any special shoutouts or people you'd like to acknowledge in the creation of Even When I'm Dreaming?

I want to thank my partner, Lianne Currie, for supporting me and always encouraging me to continue to grow and challenge myself. My parents and my sister have also been tremendously supportive. I feel blessed to have a great family that loves music. I feel so much gratitude for the musicians that played on this album. I truly feel that I recorded with some of my favorite musicians. Special thanks to Michel Lambert, Ira Coleman, Gentiane MG and Caity Gyorgy for their collaboration in Even When I'm Dreaming. Lastly, I want to thank everyone at Bent River Records for contributing to this project. It is an honor to be on this label with a roster of superb artists.