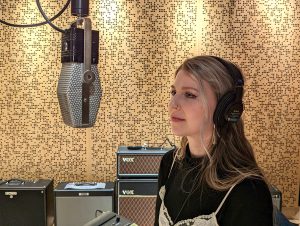 Esther Forseth is the winner of Bent River Records 2021 Art-Songwriting Competition. She is in her fourth year of the MacEwan Music Program, minoring in Songwriting. Esther is passionate about music and songwriting and is thankful MacEwan has recently started offering songwriting as a minor.
Esther's art-song lyrics for, "Preacher's Daughter", were selected as the winner of the Songwriting Competition. The lyrics originally started as a journal entry/poem. Esther wrote this poem as a metaphor for the pressures and expectations she faced growing up in a religious home and being the daughter of a preacher. She grew up in a Christian family feeling religion can make us see things as black or white, and rigid, which causes us to lose out on elements of love and other good things. A few times in her life, Esther felt suffocated by external pressures and rules, which affected choices she made. "Preacher's Daughter" allows Esther to express her spiritual side and share her wish for greater freedom.
Esther says this competition has provided her with the incredible opportunity to put herself out in the music and songwriting industry. She is thankful that Bent River Records has this competition for MacEwan students. Esther claims it would take around a million streams on the Internet to make the amount of money awarded to the winner of this competition. After sitting out of the competition in prior years, Esther convinced herself she had nothing to lose by entering "Preacher's Daughter" in the competition. She was feeling discouraged before the competition, but having her lyrics chosen as the winner has encouraged her to continue writing songs. Esther claims she is grateful and honoured to have won. 
According to Esther, recording "Preacher's Daughter" was one of the coolest moments in her life. Joel Toews arranged a composition with a string quartet for Esther's song. Esther had the opportunity to sing and record her song live with the string quartet while playing guitar. She says having this spooky haunting world created by the string quartet was an incredible experience. Esther has enjoyed watching her small thought turn into something pretty big that might resonate with others.
Esther's parents and siblings are musicians, so she grew up in a house full of music. Esther became obsessed with listening to music and used music to help her get through difficult times in life. Throughout her life, Esther has been part of a percussion ensemble, played guitar, played saxophone in a band, and sang in church with her dad. After high school, Esther decided to enroll at MacEwan University and begin vocal training. Esther knew music was an essential part of her life, but it wasn't until she came to MacEwan and started writing songs that she knew songwriting is what she is meant to do.
Esther encourages other students who want to write their own songs to just do it! She believes it is important to practice writing songs and then learn from your mistakes. Esther says you cannot expect to be really good at first. The more songs you write the better you will get!