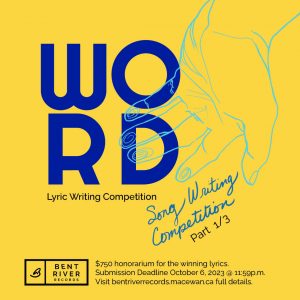 Lyric Writing Competition
Songwriting Competition Series Part 1/3
Lyric Submissions Wanted!
Calling all creative writers and part-time poets.
In celebration of MacEwan's legacy of artistic collaboration, Bent River Records is offering an opportunity to have your work recorded. The contest was conceived as a way to honour the generous and ongoing contribution of one of the label's major donors, Dr. Craig Monk, the Provost & Vice-President, Academic at MacEwan University.
DEADLINE FOR SUBMISSIONS: 4:00 pm MST on October 6th, 2023
***SUBMISSIONS HAVE CLOSED. PLEASE STAY TUNED FOR UPDATES.***
ABOUT THE COMPETITION: This contest is open to all currently enrolled MacEwan Students; no music background necessary! We are looking for your best song lyrics. We ask that you keep it under 350 words, maximum of two submissions per person.
The theme for this competition is "Gratitude" – please use this theme as inspiration for your lyrics. Adherence to the theme will be one of the considerations for adjudication.
If your work is selected, it will then be paired with an original composition done by a fellow student in the Music Department. The winner will be announced on the Bent River Records website and contacted individually. Composers stay tuned! We will be announcing the composition competition soon.
PRIZE: $750.00 honorarium
FORMAT: Entries must be in PDF format, up to 350 words.
*Please do not put any personal information on the PDF in order to maintain anonymity.
TERMS & CONDITIONS: The author will retain all intellectual property rights, with BRR having the right to print a limited run of vinyl and CDs, for promotional purposes only.
Adjudication will be completed by a panel of jurors selected by BRR, and will contain members of the Faculty of Fine Arts and Communication and representatives of BRR. The anonymity of entrants will be maintained; judges will not know the identity of the writers they are evaluating until after adjudication is complete.
Bent River Records values, promotes and prioritizes diversity, equity and inclusion in all of its work. We recognize the systemic barriers that have led to many artists being underrepresented and will continue to do work to amplify and uplift voices that reflect Edmonton's diverse communities. We are committed to fostering an inclusive culture that represents diverse backgrounds.
Please contact bentriverrecords@macewan.ca if you have any questions.
TO ENTER: Please click here to submit your entry. https://forms.gle/aBsU3cx74e5Cm34W7
Send us your submission before the deadline of 4pm on October 6th, 2023.
***SUBMISSIONS HAVE CLOSED. PLEASE STAY TUNED FOR UPDATES.***