"Listening to vinyl is a very physical experience… It's about actively participating in
your music experience." These are Dr. Craig Monk's words, MacEwan's provost and vice-president Academic. They reflect his deep passion for music and particularly of vinyl records that was sparked while he was working in a record store in the late 1980s. That passion hasn't waned since those early days and he makes a point of visiting a used record store in whatever city he finds himself in.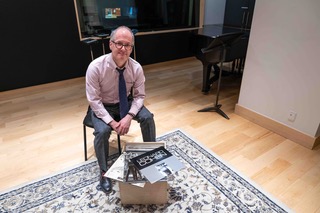 Earlier this year, Bent River Records held a contest for design students to submit their ideas for the new albums being released in 2020. After Dr. Monk saw these designs, he was inspired. "I hadn't realized Bent River produced vinyl, and it got me interested in the ways that album production could involve different program areas across campus." This realization led to Dr. Monk making a generous major gift of $50,000 to fund Bent River's production of vinyl and to ultimately encourage a cross-disciplinary engagement amongst students to create these albums, like the previous design contest.

This gift enables Bent River Records to engage with students across MacEwan and offer them opportunities to contribute to the many releases the label is working on. Dr. Monk's gift will have a huge positive impact on Bent River. All the associates, interns and artists at Bent River would like to extend our deepest thanks, for it is donors like Dr. Monk that keep local artists and arts organizations like Bent River Records alive and well.

If you're interested in hearing what inspires Craig Monk on a daily basis, listen to his Top 50 Vinyl Listen's on Spotify!