Finally! We get to introduce the man that all submissions of the 2019 Bent River Records Recording Competition are fighting for the chance to work with: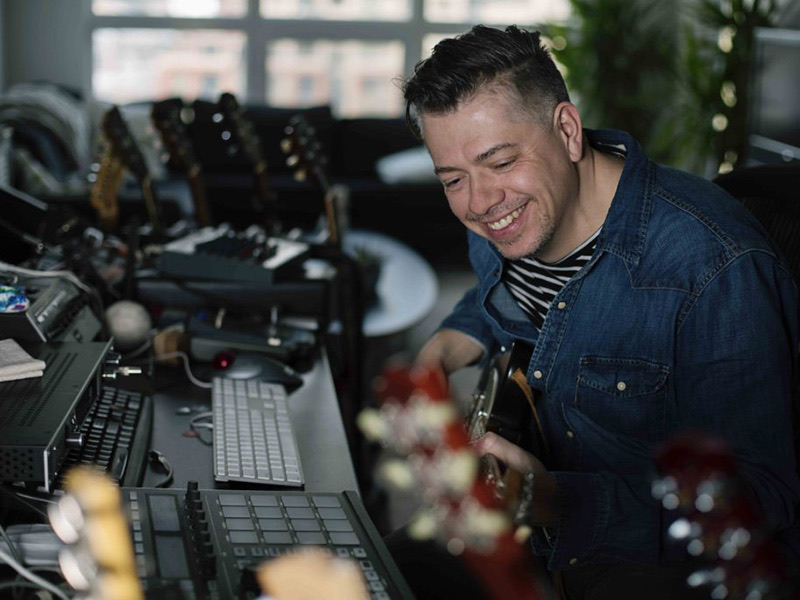 Russell Broom.
Based out of Calgary, Russell is a fantastic producer, engineer, songwriter and guitar player. He has worked with countless amazing musicians like Jann Arden, Michael Bernard Fitzgerald, and Sam Roberts, just to name a few. He has done work not only within the music industry, but is also a very active writer, performer and engineer in film and TV. He has done work for CMT (Lady Antebellum, Florida Georgia Line, Civil Wars, etc.), Alberta Primetime, Love Lies Bleed (Elton John) and many, many, many more. Besides being a phenomenal producer and engineer, he is also a very well-established guitar player across Canada and has played with the likes of Josh Groban, Robbie Williams and Brett Kissel. We could go on forever.
His hard work and creativity have led to many awards including a JUNO for songwriter of the year, WCMA producer of the year (three times!), WCMA musician of the year, WCMA engineer of the year and WCMA pop album of the year along with an even longer list of nominations. We cannot wait to see who Russell Broom and his fellow judges choose to be the winner of the Bent River Records 2019 Recording Competition. We've had a listen ourselves and it won't be easy to choose just one winner. There is just so much talent in Alberta!