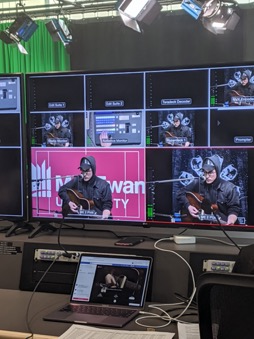 The winner of our 2019 ATB Financial Recording Competition, Nisto, has just released his new single entitled "Folk Song." This past Monday, Macewan University unveiled their newly built TV studio. As part of the the celebrations and to mark the release of his new single, Nisto performed "Folk Song" live from the new studio and audiences loved his unique voice and songwriting.
Bent River Records would like to extend our deep thanks to ATB Financial for their support for Nisto and the recording competition. During the recording process, Nisto mentioned that in Fort Vermillion (his home town) there is only one bank for miles and miles, and that bank is an ATB branch. ATB has been important for the whole process and to Nisto for years!
You can find "Folk Song" by Nisto on CD Baby, and you can listen to his other single "Los Sin Dios" on Spotify. If you'd like to hear him live along with other wonderful Bent River Records musicians, be sure to come to the 2020 Artist Spotlight on April 28 at The Aviary!
Check the coverage of this event from Global News:
https://globalnews.ca/news/6533959/global-news-journalism-scholarship-edmonton-macewan-university/